During this time of self-quarantine, we at Trinity Church wanted to offer resources to you so you can continue to grow. We will update this page in the coming weeks with more resources, so check back periodically.
The governor's office recently put out a document outlining the guidelines for faith-based services. You can read the document by clicking the button below.
Christian Counseling and Educational Foundation
The Christian Counseling and Educational Foundation (ccef) has put out a resource for the church to navigate the Coronavirus pandemic. Resources include topics on anxiety, parenting, loneliness, illness, and pastors. You can even sign up to get weekly news and content delivered to your email at the bottom of the page.
Dwell lets you listen to Scripture the way that fits you. Explore Scriputre through daily listening plans, topical playlists, currated stories & passages, and more. Choose from six genuine voices, each passionate about reading Scripture. Original background music. Chang ehte volume of hte voices and music independently, to perfectly tune your experience.

Right now you can purchase their premium subscription for 50% off!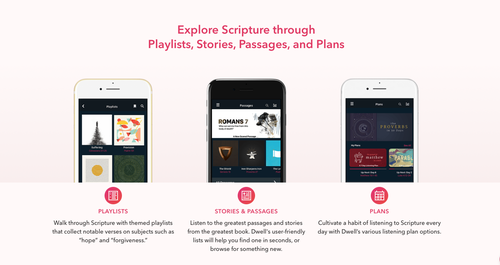 RightNow Media is an online resource for churches, small groups, and families. They feature a library of Bible studies, lessons, and kids videos. RightNow Media is offering a free limited-access tier.
The Bible Project is a ministry that produces free animated videos related to books of the Bible, Biblical themes, or other aspects of Christian theology. The visual nature of their content makes it easy to follow and understand. Their videos are best understood by middle schoolers and up, but even elementary kids might get something out of it.

They are also offering seminary level classes for free. It is a go-at-your-own-pace structure that would be beneficial.
Caribu - Video-calls Kids Love
Caribu makes family video-calling unforgettable by letting you draw together, read bedtime stories and play puzzles in real-time with the kids, no matter the distance.
KEY FEATURES
• Read and draw with your kids or grandkids in an engaging video call
• Thousands of great children's book titles and many more added weekly
• Paint and draw together without the mess
• Play games such as tic-tac-toe and word search puzzles
• Personalized children's book recommendations at the end of every book
• A wide variety of coloring sheets including everything from wild animals to learn the alphabet
• Use Offline!
• Search by Categories like Age Group, Learning, Classics, Animals... and many more!
We'd love to hear from you. Fill out the form below to get started.